How to Keep Weeds, Vines, and Grass Off Your Chain Link Fence.
Chain Link fences are the most used type of fencing in the world. Features, such as the ability to see through the fence and minimal maintenance requirements, make chain link fences the first line of security for many facilities. However, a lack of proper maintenance can render these features useless and expensive.
The most common maintenance and security problems related to chain link fences are weeds growing on or near the fence.
Here are a few of the best ways to keep your fence clear of unwanted plant materials and also how to approach fence line vegetation management in different situations. 
How Can I Keep Grass Out of a Chain Link Fence?
Unless you are going to set the plants on fire (bad idea), you really only have two good options to keep weeds and vines away from your fence – they are:
Use a weed-eater
Treat the vegetation with a herbicide
Weed-Eating:
A weed-eater can be an effective method for knocking down many types of weeds, grasses, and other 'soft-tissue' plants that might grow on your fence. Weed-eaters are less effective with woody plant material (plants that have hard stems and survive above ground in the winter) like thick vines or underbrush.
Weed-eating doesn't typically kill the plant so it will need to be done on a continual basis as the plants grow back.
If you have a relatively small area of fence line and are willing to do the work every couple weeks during the growing season, a weed-eater is the way to go.
If you choose to use a weed-eater, be careful and consider:
Safety First – Make sure the person doing the work is properly trained to operate the equipment, wears proper protective gear (such as safety glasses, ear protection and protective clothing), and stays alert so other people are not harmed by flying debris.
Weeds that are intertwined in a fence are hard to remove with a weed-eater.
If you are paying for labor to get the weed-eating done, it will almost certainly be more expensive than one or two herbicide treatments per year.
Weed-eaters can be a headache to maintain. If the engine won't start or the string doesn't feed-out properly, it can be frustrating.
Need help with vegetation management?
Herbicide Treatments
If done effectively, spraying a fence line with the appropriate herbicide material will provide excellent results. Most often, only one (1) or two (2) fence line treatments per year are needed to keep the fence line clear of brush and weeds.  The reason so few treatments are needed is because the treatments kill the entire weed (top of the plant and the roots).
If you choose to perform the herbicide treatments yourself (or have an employee perform the work), be sure any required pesticide licenses are up-to-date and follow all pesticide label instructions.
Fence line spraying eliminates weed eating, makes mowing easier, and keeps your property looking clean and well maintained. Weed eating can be a weekly chore. Treating a 1-2 foot wide strip along the base of your fence, twice a year is inexpensive and provides more long-lasting results.
How to Maintain a Chain Link Fence for Better Security
Keep Vines and Other Weeds Off Your Fence for Improved Visibility
One of the best security benefits of chain link (and wire mesh) fencing is the ability to see through it.
You don't want your fence to provide hiding places or blind spots. It is important to know what is going on the outside of the fence.
Allowing plant materials to block the view through a fence reduces the security value of the fence.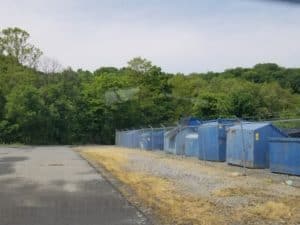 Create a Clear-Zone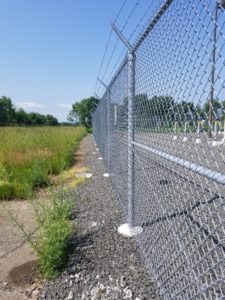 Clear zones are simply areas on either side of the fence that have no vegetation and provide an unobstructed view to improve the ability to detect intruders. Depending on the level of security needed, the size of the clear zone will vary. In a typical commercial setting, a clear zone is often just 1-3 feet wide while a facility needing a higher level of security may have a 30-foot, or wider, clear zone.
Prevent Damage to the Fence by Eliminating Weeds and Other Vegetation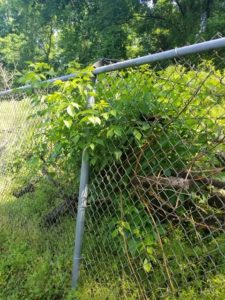 Keeping plants off of a fence also prevents damage to the fence. Trees and tree limbs can fall on to a fence, causing damage. Plants hold moisture on a fence and, over time, the fence can then begin to rust. A clean fence line also removes habitat for damaging animals such as groundhogs, mice/rats, skunks, and opossums.
Plant materials like weed, trees, and other woody plants can also push up the bottom a fence allowing a person to crawl under the fence.
Low-lying Vegetation Pressure – Mowed Lawn, Stone/Gravel Areas
In areas where the only vegetation is mowed grass, all that is needed is a 1-Foot wide strip. By keeping this narrow strip clear of grass & weeds, mowing will be much easier, the fence line will look well-kept and it eliminates the need to weed-eat each week.
Unmaintained Areas with Natural Vegetation Growth 
In unmaintained conditions such as a meadow or woodland area, the clear-zone is typically wider then a mowing strip. If there are vines, trees (including weed trees), and brush growing, the clear-zone will often be 3-6 feet wide on either side of the fence. This is needed to help keep these larger plants from encroaching on the clear zone throughout the year.
Outside of this fence is the edge of a forest. Due to plants growing here (trees, vines, and invasive underbrush) a clear-zone at least 3-feet wide is recommended.
With two treatments a year, we can help keep these vines and other plants from growing back onto the fence.
The inside of the fence had been a gravel storage area that is no longer used. At this point, only low-lying weeds are growing here and a clear-zone strip of 1-2 feet wide is all that is needed to keep the vegetation away from the fence.
Related Article:
Don't Let Plants Push Us the Bottom of Your Fence
Plants are strong and they can push up the bottom of a fence – making it easy for someone to crawl through the gap. It can place a tremendous amount of weight on the fence.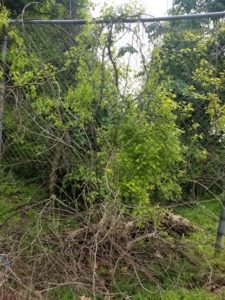 Lawn Care
Green Giant Home & Commercial's Lawn Care services control weeds, build the thickness and density of your lawn and protect it from being damaged by insects and disease, providing you with a great-looking, healthy lawn. We offer fertilization, weed control, liming, insect control, and aeration and overseeding. Visit our Lawn Care page for more information.
Tree Care
Green Giant performs: Proper Diagnosis and Treatment of Tree & Shrub Problems, Insect & Disease Control (including Spotted Lanternfly), and Nutrient Management via Deep Root Fertilization to keep your plants healthy and thriving. Visit our Tree Care page for more information.
Vegetation Management
Green Giant's Non-Lawn Weed Control services eliminate unwanted vegetation in a wide variety of locations for both residential and large commercial/municipal properties. Areas include fence lines, around obstacles to reduce weed eating, stone/gravel driveways & parking lots, swales, roadside/curbside vegetation management and more.  Find more information, visit our Vegetation Management page.
Pest Control
Our full service pest control division provides both Year-Round Service Programs that cover the vast majority of pests that you will encounter and also One-Time Corrective Services for pests such as bees, ants, termites or mice. For more information, visit our Pest Control page.
---