The Spotted Lanternfly
What are Spotted Lanternflies?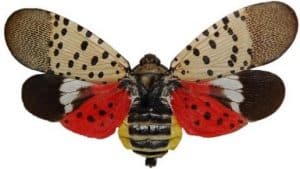 The quick answer is – The Spotted Lanternfly is an invasive insect that damages or kills plants that are native to our area. Spotted Lanternflies will cause this damage to landscape trees by 'piercing and sucking' the sap out of the tree. They are also considered a 'nuisance pest' because swarms of hundreds or even thousands of Lanternflies can invade homes and businesses. 
                        Will Lanternflies damage my trees?
It depends on what type of trees you have. Just a couple years ago, it was believed that Spotted Lanternflies only attacked one species of tree – the 'Tree of Heaven" (which is a non-native, invasive tree that is most often considered an unwanted weed-tree). However, as the populations have skyrocketed, a lot more has been learned about this pest and the list of plant-types that are being damaged just gets longer and longer.
For a list of trees known to be targeted by the Spotted Lanternfly, click here.
How do I protect my trees from Spotted Lanternflies?
The two primary methods of controlling Spotted Lanternflies are a Soil Injection or Spraying of the trees. Both would be performed with an insect control product that will be effective against the Lanternflies. The soil injection method is the best way to save your trees from Spotted Lanternflies – if the time of the year is right. A soil injection is performed with equipment that injects an insect control material into the soil and the material is then taken up into the tree by the roots and the tree's circulatory system. The material makes it way to all living parts of the tree and the insects die when they begin feeding on the plant. Spraying of trees to control Spotted Lanternflies is also done with an appropriate insecticide that will be effective against this pest. To learn more about various ways to protect your trees from Spotted Lanternflies, click here.
The Spotted Lanternfly in Pennsylvania
In September 2014, the first documented sighting of the Spotted Lanternfly in the United States was in Berks County, Pennsylvania and has since taken over. These quick jumpers are native to China, India, and Vietnam. Populations of this damaging invasive species have grown in massive quantity and have now spread to other Pennsylvania counties and other states, such as Delaware, New York and Virginia. This pest has caused concern in both the agricultural and residential communities. It has already impacted the grape, hops, logging, fruit, and several other Pennsylvania industries.